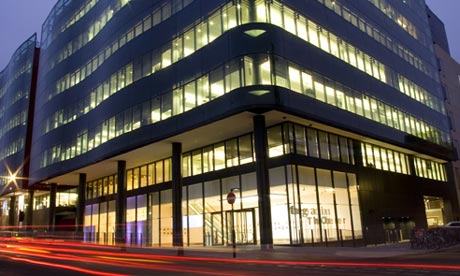 What would happen if The Guardian abandoned its attachment to the free online publishing model and joined the paywall crowd?
It's a long-running question that got a little more attention yesterday following the news that The Guardian had avoided industrial action from its journalists by promising not to make 68 compulsory redundancies, as previously planned.
Welcoming the deal, NUJ deputy general secretary Barry Fitzpatrick said: "It is essential that the transition to a subscription-model, coupled with an affordable print version, is based on the highest standards of journalism." The subscription-model part of the online statement was hurriedly corrected to "the digital" and both the publisher and union say it was simply a mistake.
Yet Guardian News and Media has to do something to curb its losses - £44.2 million in the year to March 2012 - and cutting costs can only go so far. GNM's management seems committed to building an online advertising business with assorted user revenue streams such as iPad/iPhone subscriptions and events. It has sold 17,600 iPad subscriptions so far.
But what would the alternative look like? Two examples provide some guidance...
-- The Times: In its last ABC stats as a free-to-air site in February 2010, Times Online attracted an average of 20.4 million unique browsers a month and 1.2 million a day. As of July 2012, it had 131,000 paying digital-only subscribers - that's a 10.8 percent conversion rate of its free daily browsers to paying subscribers. (We understand the daily figure inflates conversion rate).
-- The New York Times: Or take the New York Times. In February 2011, the last month before raising a paywall, the NYT attracted 61.9 million unique users according to comScore. Two years later it now has 668,000 paying subscribers - a conversion rate of 1.08 percent from monthly uniques to subscribers.
According to January's ABC figures, The Guardian attracted 4.3 million unique browsers a day and almost 78 million unique browsers a month.
-- If it was to follow The Times in converting daily online readers into paying digital subscribers at £10 a month, it would end up with 463,000 subscribers, making £55.6 million a year in new revenue.
-- If it was as successful as the NYT in converting its monthly unique browsers, with prices starting at $15 a month (let's assume the Guardian just uses this lowest price point) - at a 1.08 percent conversion rate The Guardian's 77.9 million unique browsers would end up with more than 840,000, making £99.5 million.
Some caveats:
-- Unique inflation: The Guardian's healthy online figures have benefited from the paywalls put up by its rivals such as The Times and the NYT. You would expect some of the visitors to the Guardian site who have joined in the last three years or so to be determined hold-outs who won't pay for newspaper content online.
-- Advertising: Putting up a paywall is inevitably going to hit traffic volumes to the Guardian website - though a Times-style hard paywall would have more impact than the NYT's metered approach. That would hit online ad revenues - which for Guardian News and Media stood at £14 million in the 2011-2012 financial year.
There's no guarantee The Guardian would be as effective as the NYT or The Times in getting its existing audience to sign up. But it is in a better position than many.
The Guardian is good at engaging its audience, good at building appealing tablet and smartphone apps, and good at doing journalism in new and interesting ways that help it stand out from the crowd.
If it can leverage those characteristics well - it should be able to convince its readers its worth paying for online access, and perhaps even be able to stop laying off journalists.